Alright, departure is getting close people! I only have to turn two pages in my day planner (yes I still use a paper day planner, because I am old school!) and I see in large writing - "AUSTRALIA!" I can't believe it is so close!
For this post, I will give you a glimpse of my time in Sydney!
Lets start with where I will be staying :)
Since I will be alone (a fact that both excites and scares me) I needed to book hotels, and since I am 26 and have a full time job as a travel agent, I decided I do not want to stay in a hostel. My job allows me staff discounts at hotels all over the world, so I was excited when I found such a great deal on a hotel right by Hyde Park (Sydney's Central Park).
HOTELS:
Y Hotel Hyde Park:
This hotel is a little interesting cause I will have my own room, much like the one pictured, but I will have to share a bathroom. It is affordable though and right by Hyde Park in the middle of Sydney. It is a 15 minute walk to the Sydney Opera House and Darling Harbor.
I got a great discount on this hotel with my STA Travel Agent Discount. But it is totally affordable regardless of the discount :)
I will only be staying here 3 out of the 4 nights I am in Sydney.
Four Points Sheraton Darling Harbor:
I have to generously thank my friend Chris for his awesome friends and family discount! I got this hotel for my last night in Australia as a treat to myself :) It is right on Darling Harbour and has great views! I also get a discount card for food and drinks, so I will be living the fine life in a hotel that will continuously make me feel poor. hahaha
So when I am not peacefully (hopefully) sleeping in my lovely hotels, I will be seeing the sights of the city!!
One of the things I am very excited about seeing is the Blue Mountains just outside of Sydney! It is a World Heritage site and something not to be missed apparently.
We have a very popular tour at my work that I promote to my passengers traveling to Sydney that is an all day hike and lunch through the Blue Mountains. It costs $120, but because I am a travel agent and contacted the company directly, they gave me a 90% discount... so $12 later, I will be spending August 26th here...
and here
and here...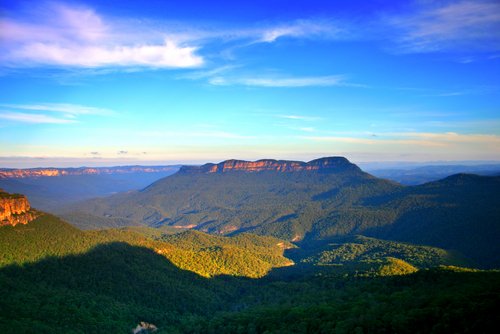 Next post...
What I'll be doing in the city of Sydney...